---
Age and Reading Level

This series is ideal for reading to children aged 4–8, or as a reader for age 9 (Australian reading level 22), or advanced readers age 7+. See School Activities here.

About Myra and the Magic Motorcycle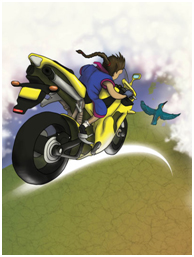 Myra and the Magic Motorcycle is a series of children's books written by Amanda Greenslade and drawn by Glen Holman. The series is about an 8-year-old girl named Myra, who has a magic motorcycle that takes her all over the world. In every story the motorcycle brings Myra on a special mission to help someone.

Each book teaches about a specific location in the world as well as having a social theme. The social themes include understanding human behaviour, developing interpersonal skills and social issues such as poverty, inequality, bullying, the media etc.

The other main characters are Mum, Dad and Myra's pet kingfisher, Diver. New characters are brought into each story.
---
Book One: The Business in Bermuda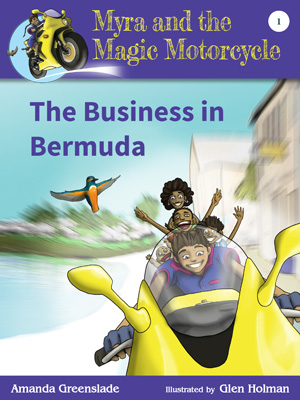 Release date: August 20, 2015
When an eight-year-old Australian girl, named Myra, finds a shining yellow motorcycle in the shed, she doesn't expect it to actually work. It has strange buttons on the display and something like an eyebrow on the headlight. There is a key in the ignition!

Along with her pet bird, Diver, Myra finds herself on an exciting adventure across the other side of the Earth. The magic motorcycle takes her to new places and she is able to meet some people who really need her help.

Turn the key and rev the throttle. You're about to go on the adventure of a lifetime with Myra and the Magic Motorcycle.

Available in print and online!
Enquire about wholesale distribution
Ebook Editions




The ebook with audio book included is available on
Apple iBookstore
and
Kobo
. The Apple edition also features interactive sound effects buttons! Your children or students will really get engaged with the ebook on Apple, when they can press the buttons while you are reading it, or while the ebook is reading itself to them using the built-in media overlay.
This audio narration of the story was done by Kelly Stroud and Caitlin Stroud and can be accessed from the top menu of your copy of Myra and the Magic Motorcycle in Apple iBooks.
Buy Ebook Edition on Amazon
Buy Ebook Enhanced with Audio Narration and SFX on Apple
Buy Ebook Enhanced with Audio Narration on Kobo
Amazon Kindle Enhanced Ebook (Kindle Interactive Format)
All 48 pages of this children's picture book have beautiful full-color illustrations by Australian artist Glen Holman.
It is available in print and online.
The ebook is optimized for full colour tablet viewing and you will not be squinting to read the text, unlike so many other fixed layout ebooks.
With the magic motorcycle, a cool female hero and adventures across the world, it teaches social issues and science in a mild entertaining way.
It's like The Magic School Bus Meets Ramona Quimby.
Publishing Specifications
Author:
Amanda Greenslade
Illustrator:
Glen Holman
No. of pages:
48
Size of print edition:
Length 145mm x Height 215mm
Print ISBN:
9781925271638
Ebook ISBN:
9781925271614
Audio Book (enhanced epub) ISBN:
9781925271621
Genre:
Children's Fiction
BISAC (ebook categories):
JUVENILE FICTION / Social Issues /
General JUV039000
JUV001000 JUVENILE FICTION /
Action & Adventure / General
Age Range:
Reader for age 9
Advanced reader for 7+
Read to me 4–8
Geographic target market:
Primarily Australia, New Zealand, USA, Canada, UK and Europe, but all English-speaking
National Library of Australia Cataloguing-in-Publication entry
Creator:
Greenslade, Amanda, author.
Title:
The Business in Bermuda / Amanda Greenslade ; illustrated by Glen Holman.
ISBN:
9781925271638 (paperback)
Series:
Greenslade, Amanda. Myra and the Magic Motorcycle ; 1.
Target Audience:
For primary school age.
Subjects:
Motorcycle touring--Juvenile fiction. Adventure stories.
Dewey Number:
A823.4
More Information
For more information about Myra and the Magic Motorcycle or the features of this enhanced ebook please scroll up and read the information on this page and watch the included video. There are also free teaching resources here.

Your school's one year license will be provided to you after you purchase the book. You will not have to sign anything. It is offered to you in the form of social-DRM and/or on an honour basis. For one year you will be welcome to share the file with parents and staff of the school. They will not ever have to remove it from their devices once installed. For more information about the license, please contact the publisher.
How to load your ebook file to devices
You will either be emailed a link to download or supplied with a USB flash drive containing the free enhanced epub edition of Myra and the Magic Motorcycle for your school, within 3 weeks of your purchase. It will be a 50Mb computer file with the extension .epub.

It is supported by both Apple and Android devices, however only Apple iBooks (app) will support both the sound effects and the audio narration (media overlay).
Apple Devices
For PCs and Macs up to (not including) the Mavericks OS
To load an ebook onto your iPad you will need Apple iTunes installed on your desktop computer.
Plug the iPad in
Open iTunes
Drag the ePub file, from a folder on your computer, onto your library
Click your iPad in the list on the left and ensure either (a) Synch all books is ticked or (b) if you don't want to use synch all, make sure the new book you just put into your library is ticked on the iPad's specific list
Synch your iPad with iTunes.
Nb. If your iPad does not appear in iTunes soon after you plug it in, please contact your IT support officer or Apple directly for technical support.

For Macs with Mavericks
For Mac users who have Mavericks OS you will also need iBooks installed and will use it to perform steps 1 to 3 above. Step 4 (synch your iPad) will still be done from within iTunes.

If the above information did not help you, you may need to search the Apple website for other tips and tricks or contact a local IT support person for assistance.