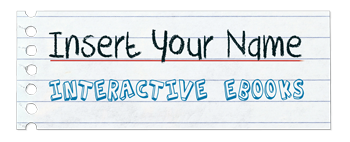 Insert Your Name Interactive Ebooks are children's books designed for the Apple iPad and other supporting devices. Parents can purchase the books through regular ebook vendors, rather than needing to download a specific app, and can interact with the ebook in the following ways:
Insert your child's name and gender to personalise the ebook just for them
Written by Amanda Greenslade and drawn by Caitlin Morgan, Atakami Art, the series is about a group of characters who have a problem. This problem can only be solved by you! In every story the resolution will be brought about by the reader, whose name appears in the text of the ebook.

Each book is about a specific problem and your child will be the character that comes up with a special way of solving it. The solutions will often teach concepts that are not commonly seen in children's books such as:
Engineering concepts
Physics
Interpersonal skills
The power of words
The human mind, brain, creativity etc.
Book One: You, Kifaru and the Mud Problem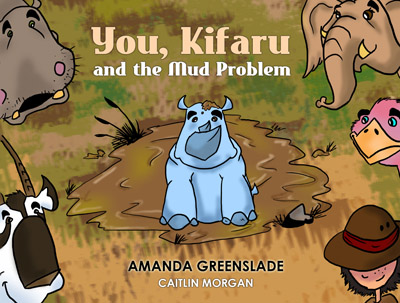 Release date: November 11, 2015

An African hippo gets his foot stuck in the mud, and lots of animals try to help, but even the biggest and strongest is unable. The hippo needs your help to get free.

Your child will delight in this enhanced ebook, which makes them the hero of the story (you input their name and gender in the beginning). The moral of the story is learning to use your intellect (and engineering knowledge) rather than brawn to solve this sloshy, mucky problem.
There's some information about the concept of leverage, a group game and a comprehension questionnaire at the end.

This story is ideal for reading to children aged 2-6.
Available in print and ebook NOW!

Buy enhanced ebook for Apple devices
This edition has interactive fields for your child's name!
buy ebook

Buy ebook for Android devices (non-enhanced edition)
Buy ebook edition from Amazon
Buy ebook edition from Kobo
Buy ebook edition from Google Play
Book Details
Author:
Amanda Greenslade
Illustrator:
Caitlin Morgan
No. of pages:
26
Ebook ISBN:
9781925271805
Enhanced ebook ISBN:
9781925271812
Genre:
Children's picture book
BISAC ebook categories:
JUV036000 JUVENILE FICTION / Science & Technology
JUV002330 JUVENILE FICTION / Animals / Hippos & Rhinos
Age range:
2-6 year olds
Geographic target market:
Primarily Australia, New Zealand, USA, Canada, UK and Europe, but all English-speaking